Primary Dealer System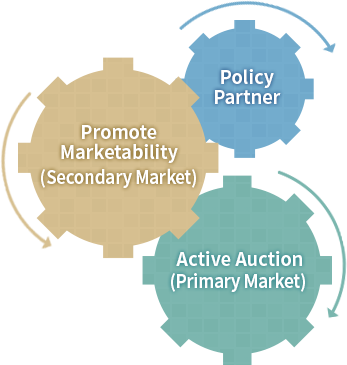 The Primary Dealer (PD) system was introced in 1999 to promote the market for KTBs. PDs enjoy privileges in the primary market, including exclusive underwriting rights for government bonds and a standing borrowing arrangement. At the same time, PDs are obliged to fulfill specified duties in the secondary market.
As of July 2018, there are 17 PDs – 10 securities companies and 7 banks. Financial institutions must first be designated as PPDs before becoming PDs. The Ministry of Economy and Finance (MOEF) determines the promotion of PPDs to PDs based on regular assessments of their market making performance.
Roles & Obligations of PDs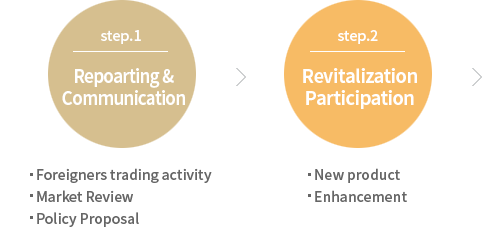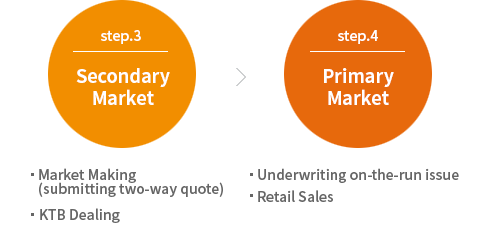 step.1 Repoarting & Communication

Foreigners trading activity
Market Review
Policy Proposal

step.2 Revitalization Participation
step.3 Secondary Market

Market Making(submitting two-way quote)
KTB Dealing

step.4 Primary Market

Underwriting on-the-run issue
Retail Sales
The MOEF conducts quarterly PD assessment on their underwriting and market-making performances every six months, and selects top five PDs that will receive the Finance Minister award.
The outperforming PDs are granted rights to non-competitive subscriptions that allow them to additionally underwrite KTBs at the same yield as the highest auctioned yield at the competitive auction. The amount of KTBs they can purchase depends on the results of their semi-annual performance; PDs that placed 1st to 5th can additionally underwrite up to 20% of their total underwriting volume at the competitive auction; those in 6th to 10th up to 15%; those in 11th to 15th up to 10%; the remaining up to 5%. Top five PDs in the monthly assessment are then granted an additional 10%.
In addition, a financial support system is being operated to provide low-interest loans to PDs, using the government's temporary surplus funds and taking their KTBs as collateral.